BFJ Research
10.11.2020
Part 1. Market Overview
Yesterday's market was relatively calm until Pfizer and BioNTech announced their groundbreaking progress in 90% success rate for their third stage Covid vaccine clinical trial, the market has entered party mode with strong 'risk-off' sentiment. This positive news has led to increase in US equities and European equities, with an decrease in Nasdaq, led by falling share prices of popular tech companies in the Covid era, including firms that have remote working tools as their main product, and food delivery companies, making a contrast to the rise in airline and cruse companies in the other sector. Unsurprisingly, risk haven FX products such as gold and JPY have experienced a sharp fall, yet, USD was on a rise, this is perhaps due to the climb of 10-year treasury yield. One interesting note, Australia recently signed $13m strategic partnership with AstraZeneca, who is now very much behind of its rival competitors.
Part 2. Previous Economic Data Highlight

The BoE mostly talked about climate change matters, nothing significant to move the market.

The monthly NAB Business Confidence was solid in October, moving forward, if the vaccine rolls out soon, it will further benefit the market.
Part 3. Upcoming Economic Data

China's October inflation will be out at 12:30pm today, and the forecast continues to be lower than previous month, if the actual number is on par with forecast, it will be the third consecutive month of decreasing positive performance compared to previous month. Looking at the data of previous month, the decrease was caused by slowdown in prices of food, perhaps due to the decrease of severity of Covid. Moving forward, the October number may be boosted by October Golden Week.

The RBNZ will announce its interest rate decision tomorrow, as it has previously hinted negative rate a number of times, there are market speculations that the RBNZ will announce the change tomorrow, yet, the positive Covid vaccine news has prompted a fresh prosperous outlook for the global economy, and the RBNZ may have different decision by then.
Part 4. Technical Analysis
 XAGUSD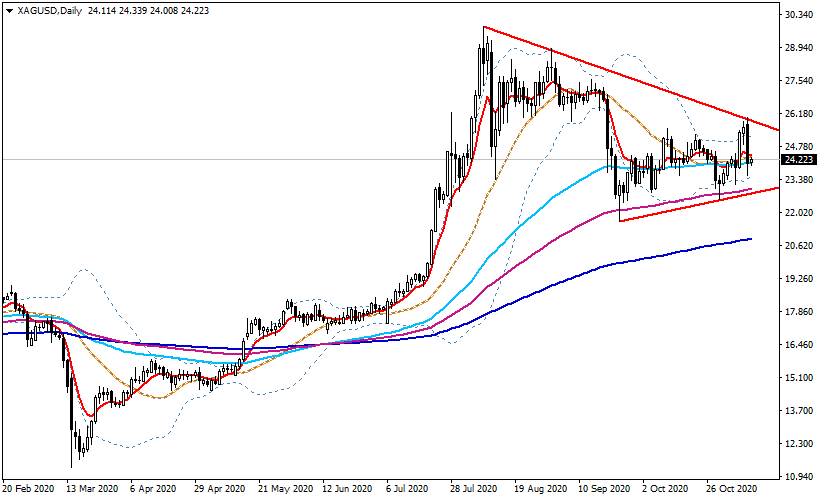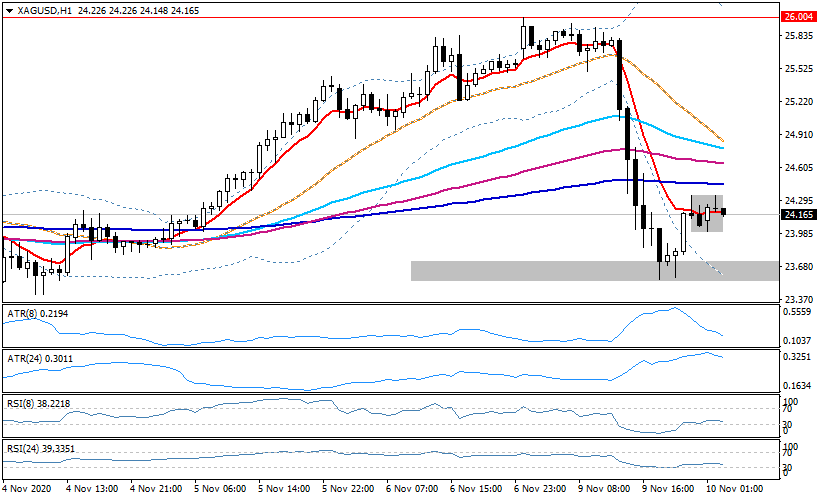 The shortfall of XAG due to positive COVID vaccine news has put XAG back on the triangular consolidation on the daily chart after its attempt to break out, whilst the previous potential uptrend had ceased, yesterday's candlestick formed a bearish engulfing pattern. In terms of intraday, there was a rebound this morning as it found support at 23.6 area, currently its in a tight range consolidation, whilst our 5MA system are forming bearish pattern on the hourly chart, if XAG continues to fall and break out the 23.6 support, there will be room to reach 23.2 area.
XAUUSD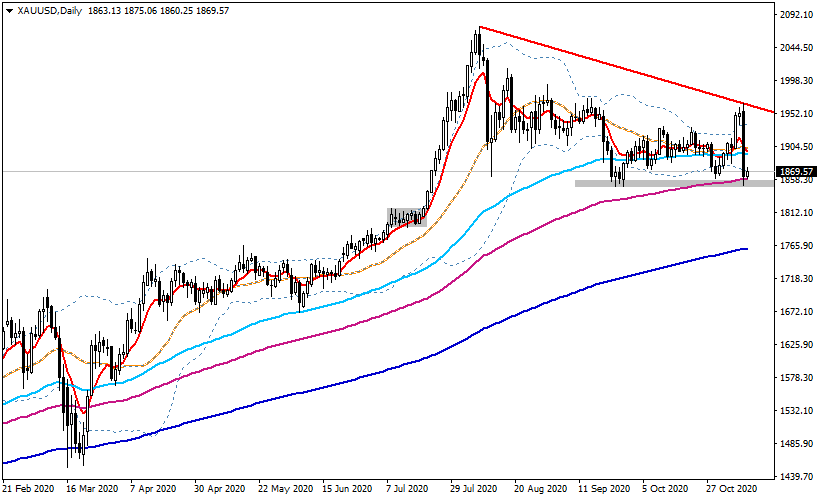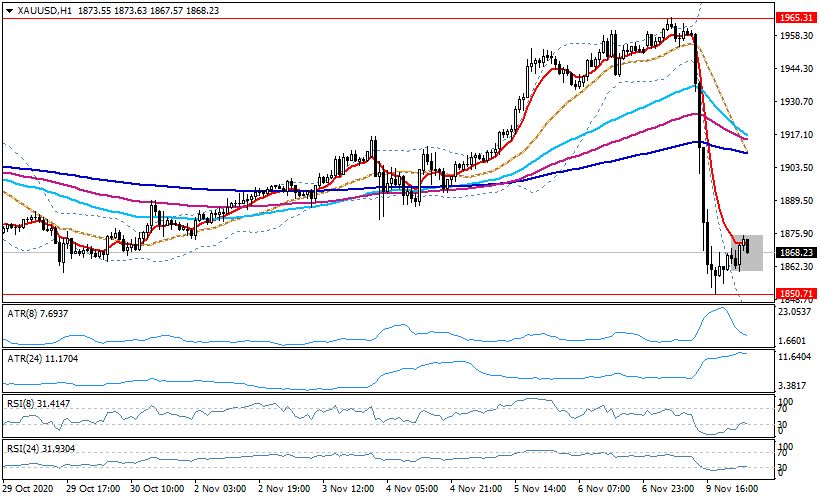 The shortfall of XAU has found support from the previous support level at 1850 area, now forming a triangular consolidation on the hourly chart. Fundamentally, the Covid vaccine has initiated 'risk-off' sentiment in the market, the risk-adverse nature of gold has lost its value substantially. Looking ahead, the prosperous global outlook may bring further downward pressure to XAU. In terms of intraday, there was a slight rebound after finding support at 1850 this morning, but right now it could form a 3 candlesticks reversal pattern, if the reversal pattern does form, and the 1850 support is not effective, it will have room to fall further until the 1818 area.