BFJ Research
11.11.2020
Part 1. Market Overview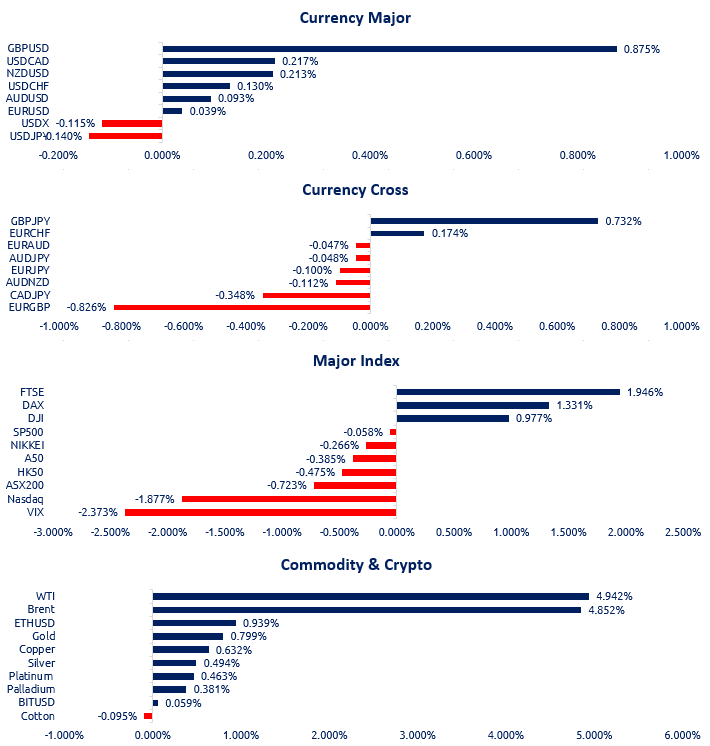 The market was fairly quiet yesterday, with vaccine hopes continue to play on the market sentiments, even though there were warnings from Fed officials that the economy still faced ongoing impacts from Covid. Despite the promising progress in the vaccine development, we now only found success in the first half of research and development phase, but the data regarding efficacy among different age groups and the lasting time of the immunity are yet to be discovered, and most importantly, distribution and logistics remained one of the biggest challenges. In the equity market, tech firms sell-off continue after Covid vaccine breakthrough, the continuation was led by Amazon, who is currently responding to antitrust allegation from Europe.
Part 2. Previous Economic Data Highlight

China's October inflation has dropped to the lowest since October 2009 and below market expectation. There was a sharp slowdown in prices of food, with pork prices falling for the first time in over a year. This is not necessary a bad sign since food prices were previously inflated due to Covid led panic and supply shortage.

The fall of European economic sentiment was led by the impact of second wave of Covid, independent research done by ZEW shows neither the Brexit negotiation nor the outcome of the US presidential election currently were having an impact on the economic expectation for Germany.
Part 3. Upcoming Economic Data

The RBNZ will announce its interest rate decision later today at 12PM, as mentioned yesterday, the positive Covid vaccine news could have an impact on its decision.

UK GDP numbers will be released tomorrow, and it is expected to be the biggest contraction ever and the second consecutive quarterly decline in GDP, officially entering a recession due to Covid, and the restrictive measures the UK government taken to reduce transmission of the Virus.
Part 4. Technical Analysis
 XAUUSD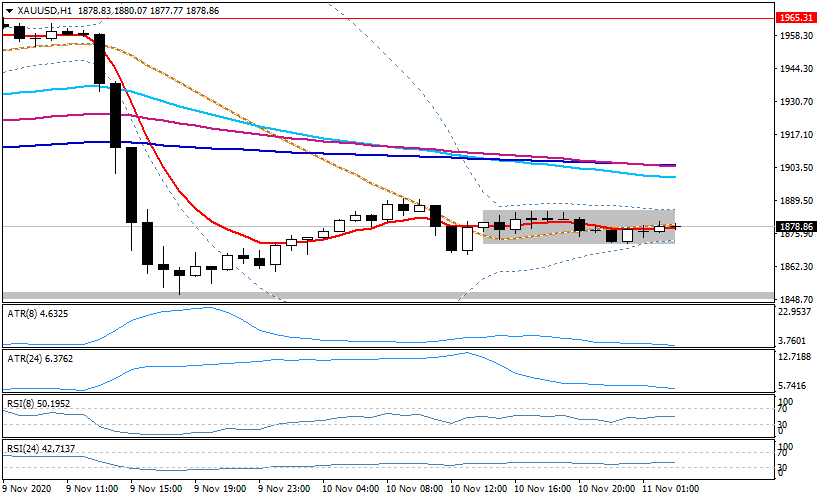 While XAU found its support at 1850 and rebounded slightly, it had struggled to pickup any momentum and let alone finding a direction. While our 5MA system forms a bearish pattern on the hourly chart, XAU is currently in a tight range consolidation, the candlesticks for the past few hours have depicted uncertainties with small bodies and appearance of several stars; perhaps the market has also realized vaccine may not be readily adoptable and distributed yet, and recovery is still uncertain. In terms of intraday, investors should pay attention to any movements that could signal a direction, if there is upward movement, resistance at 1903 should be monitored, if there is downward movement, effectiveness of 1850 support should be examined.